Ashingdon and East Hawkwell Memorial Hall
Covid-19 Update for our Hall - 28th November 
Remembrance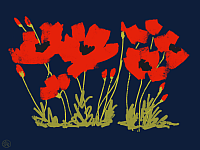 Drawn by Julie White 2020
Remembrance Day - 11th November 11am
It was a beautiful day at the hall. The organiser played the last post and recited his Remembrance and thanks to the fallen.  In the evening one by one in their family bubbles, one in, one out, The Scouts and Beavers came to offer their Poppies and respect. It was very moving. Thank you 1st Ashingdon Scouts for a beautiful Memorial Day in these difficult times. 
A new type of Drive Through came to Ashingdon
Trick or Treat
The committee had a lovely time at the drive through on Halloween Night.  The weather was kind to us and with a spookie projection, Screaming and Cackling Witches, Beetle Juice, a Dancing Skeleton, a roaming Zombie, Morticia Addams and a Devil Woman we proceeded to do our best to provide a fright night for the little ones of Ashingdon and Hawkwell to remember.  The children so brilliantly dressed blew our socks off and it took all we had to try and scare them more than they scared us.  We lost, many sweets were handed out! Though, I must say, I was rather disappointed not to get the promised little ones offered for my tea! 
A huge thank you to Constable Landscapes for providing us with the traffic cones we so desperately needed, at such short notice, to keep the car park organized and safe.
The Event was well attended and the committee thank all of you for your kind comments and gifts.
A little about our hall....
Ashingdon & East Hawkwell Memorial Hall is a large village hall situated between Rochford and Hockley close to Southend, which is available for hire for up to 200 people in safer times. It has been completely overhauled to meet Covid 19 guidelines and has recently had the floor renovated, which is perfect for dancing.
Our hall makes an Ideal Function Venue and is also suitable for Birthday Parties, Business Meetings, Fitness and Dance, Engagements, Anniversaries, Corporate Events, Quiz Nights, Children's Parties, Craft Fairs…etc. It also has many added extras that make it such a user friendly hall to hire. A Sprung Maple dance floor, Stage area, Bar area, Kitchen area with serving counter, Wheelchair accessible Disabled toilet, Children's play area behind hall (King George's Playing Field), Large free car park, free Wi-Fi, and a Separate meeting room available for hire.
Blog Spot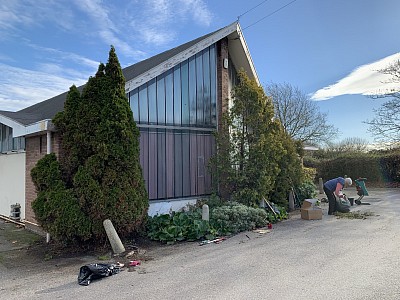 Tidy up
A little gardening 
The committee noticed that it was time the garden in front of the hall needed a little spruce up. So four of us with gardening gloves secateurs, forks, hedge trimmer and plastic bags set to work. There was bramble growing in amongst the trees and the worry was that it would choke them along with the ivy. So we spent two hours clearing as much as we could. It's not looking like Kew Gardens yet, but it won't be long. 😆
Mrs Dickie Bows
We're open and rocked it with style!
We opened our doors to regular hirers on 17th August in line with government guidelines.
A big thank you to Rose and Mrs Dickie Bows for being the first to try out the new Covid restrictions with her Retro Dance class.  It was well organised and as safe can be. All couples had their own taped off area to dance in and Rose directed from the stage. 'It was a different way of teaching' Rose said 'but I'll get used to it! It was lovely being in the hall and dancing again'
Hirers And Trustees of the hall have supported each other in ideas on how to get the much loved classes up and running again.  The community spirit has come alive in these different times.  
Government Advice
The government has amended their advice regarding the use of face masks for people in village halls and community centres as follows:-
'This amendment came into force on 8th August in The Health Protection (Coronavirus, Wearing of Face Coverings in a Relevant Place)(England)(Amendment) Regulations 2020.
People taking part in exercise or sport which would also take place in 'Indoor fitness studios, gyms, dance studios, leisure centres, indoor swimming pools, water parks, funfairs, theme parks or other premises for indoor sports, leisure or adventure activities', do NOT now have to wear face masks to participate in these activities.''