A Committee's task list.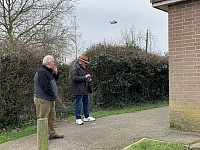 Even though we have not been in the hall, we have still been working hard on trying to find ways to move forward. Two of our committee members attended online training with ACRE to ensure that the hall is being run within the Charity Commissions guidelines, to make sure the books are being filled out correctly and to work towards making sure that the hall is serving the community well. 
A team of committee members have been working on a Grant to try and raise funds to replace the windows, doors and roof.  You may have seen some drone activity around the hall. These volunteers offered us the free use of their Drones to capture the poor state the roof is in. We are very grateful to them both. 
Currently, like a tag team, committee members have been checking the hall has been safe during the inclement weather.
The same team are in full flow at the moment preparing the once called committee room into a room for all the community to use, be it a Chess Club, Cafe, Crochet Circle, Coffee Natter Group, A Teenager's Evening Coffee Shop or Prenatal Mums gathering for a support group. The grant hopefully will pay for some new windows and a rear outside door. It is currently being stripped of the old wood chip paper and will get a lovely fresh coat of paint.  What we're struggling with is a name for it, it has, for the moment been playfully named 'The Room of Requirement'
We look forward to seeing you all soon and we will be inviting the community to come and meet us and see what we've been up to.