Ashingdon & East Hawkwell Memorial Hall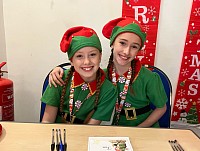 Pixie and Periwinkle
Christmas Craft Fair
I have to pop a quick comment on here to say what a wonderful day of laughter and camaraderie we had with our stall holders. The atmosphere in the hall was merry and light. We all had so much fun. Take a look here to see more and the photos of the day. 
The Hall opens it's doors again on a Sunday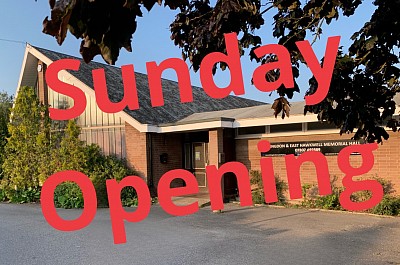 Terms apply
We have had many requests for the hall to be available again for a Sunday hire. Due to costings and staffing we can only open the hall for a minimum of a 5 hour hire. If this interests you please contact the bookings office as it is by request only.  Please see our Hire Charges page for terms  
For enquiries -
The Kitchen Reopens
The Committee have been working hard to reopen the kitchen to give our hirers more elbow room to provide party food and drinks for their events.  Though the Kitchen still looks tired we have been applying for grants, some successful some not, to help us bring this facility back to the community.  These grants, as explained in our AGM, are paying for the refurbishment of the kitchen so that we do not touch our capital should something that urgently needs repairing arise.  The kitchen now meets health and hygiene standards for the hires we offer at the moment.  Going forward after the refurbishment in August we will be offering the kitchen as a separate hirable space as a:-
teaching space,
community gathering to cook meals together in times of need,
large event food preparation
to provide refreshments to the neighbouring play area
an evening coffee shop for teenagers in the Room of Requirement
Watch this space for an invitation to our open day to celebrate with you!
Grants have been received from the Coop and the RCCE so far.  A huge thank you to them! 
See our blog spot to see how we did it.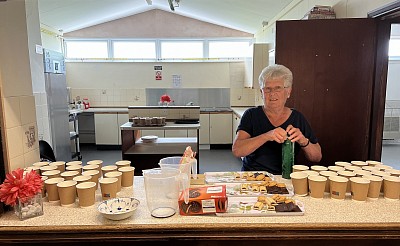 The Kitchen is Open again!
Coronation Plaque presented to Ashingdon Primary School
On Friday 12th May, David Catchpole - Vice Chairman of our hall and Chairman of Ashingdon Parish Council, with Lin Green - Our Chair Lady visited Ashingdon Primary School to present to them a plaque to commemorate the Coronation of our New King.  We hope that this small gift to the school will help them remember such an auspicious occasion.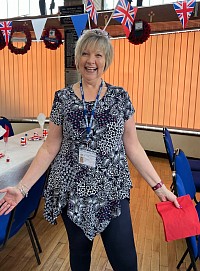 We are Volunteers
This Hall is run by Volunteers in the Community for our Community. We are available some of the time. If you wish to make an enquiry about the hall please send us a text or an email and we will endeavor to contact you within three working days. Or if you wish to make a booking please use our online booking system.
For Bookings contact
Helen England - Bookings Manager on 
A little about our hall....
Ashingdon & East Hawkwell Memorial Hall is a large beautiful village hall situated between Rochford and Hockley close to Southend.  It is available for hire for up to 200 people in safer times. It has been completely overhauled to meet Covid-19 guidelines and has recently had the floor renovated, which is perfect for dancing and exercise.
A new committee has recently brought the hall to the forefront of the community, by holding community events to help families celebrate certain occasions through 2020 that couldn't have happened due to the Covid-19 Government restrictions. See our Halloween, and Remembrance  event pages.
The Committee have many more plans they would like to bring to the hall like craft fairs, a teaching kitchen, a pantomime, a café and an internet café.  None of this can be achieved without the hard work of the committee and the support of our community.
The hall also needs some renovations, the roof needs repairing, the heating needs updating and the kitchen (is closed) needing urgent refurbishment.  Even though we were in lockdown the committee still achieved so much.  A more detailed list of achievements can be read on our blog 'A Story of a New Committee Member'.
Our hall makes an Ideal Venue and is suitable for Children's Birthday Parties, Business Meetings, Fitness and Dance, Classes, Corporate Events, Quiz Nights, etc. It also has many added extras that make it such a user friendly hall to hire. A Sprung Maple dance floor, Stage area, Bar area which doubles as a serving area for food through its hatch to the hall (it has a microwave, coffee machine, Kettle, coffee cups and sink) Wheelchair accessible Disabled toilet, Children's play area behind hall (King George's Playing Field), Large free car park, and free Wi-Fi.
We will soon have a separate room called our 'Room of Requirement' this will be for smaller meetings, classes, meditation, craft clubs, health support clubs, and as an extension to the hall should it be required.