Regular hires for the Hall. 

Why not join in...
Being a village hall there are many classes and meetings which take place regularly every week. Why not get involved and join in with the local community spirit. 
Mrs Dickie Bows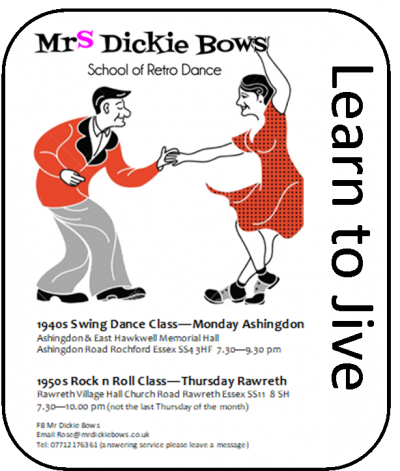 Mrs Dickie Bows
Learn to Jive with Rose at Mr Dickie Bows School of Retro Dance.
In these unprecedented times you can still learn to dance with your partner in an appropriate area of space designated you both. There are restrictions in place and numbers into the class are limited therefore booking your space is essential. Dancing is great physical activity and really good for mental wellbeing. You can find out more information on her website www.mrdickiebows.co.uk or find her on Facebook FB Mr Dickie Bows. Everybody is welcome and we look forward to the day when the restrictions can be lifted and normal life returns – but it's not stopping us dancing at present all be it very limited. For more information Phone Rose on 07712 176361.
Learn to Swing Dance Monday night 7:30 - 9.30 everyone and new beginners always welcome. Enjoy creating your own health and activity in a fun way

Strollercise
Stroll your way to fitness – Rayleigh/Hockley/Rochford and Leigh
Low impact, dance-based fitness class strolling to the fabulous music of the 50's! 5-7,000 steps an hour make great friends and get fit at the same time, all for £5 pay as you go! Booking is essential … please join my fb group for all the up-to-date information and video tutorials to get you started!  New classes coming onboard … Ashingdon class starts Thursday 20th August @ 5.45pm
Contact Lin
07414 572866
JOIN ME ON FACEBOOK FOR MORE    
WeightWatchers
With Lee from 9:00 - 11:00. 
Quiz Nights
There are quiz nights held at our hall.  Keep and eye on our website for dates if you fancy a go.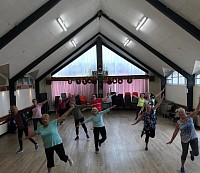 Julie's Fitness Class
50 + Keep Fit
This is a fun and friendly all round fitness class for the over 50s.
It's a fabulous way to get fit and healthy. It includes exercise to music using low impact moves joined together to make a great routine, followed by a variety of stretching and toning exercises using bands and balls. You will enjoy all the benefits exercise has to offer whilst having fun and making friends.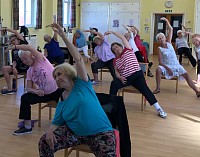 Chair Yoga
Chair Yoga is a beautiful class where you will enjoy the benefits of movement, breathing and  relaxation for the mind and body. You will love how this class calms the mind, relieves stress and anxiety, increases happiness, increases blood flow and prana, increases muscle strength and tone, improves flexibility and digestion, stimulates the respiratory system and increases lung capacity, improves balance and stability,  improves sleep and allows you to be present and so much more. 
All ages and abilities are welcome to our classes, we also hold several events throughout the year so you can enjoy the social benefits of coming to class too. 
Please contact Julie to book your place whilst covid restrictions are in place
Julie  Wheeler -  Fun and Fit.
Mobile: 07912622483 
Email: juliesfitnessclasses@gmail.com
website: funexerciseclasses.co.uk
Tae Kwon-Do
Held on Tuesday Evening at 18:15 - 19:15
A class for everybody to learn Tae Kwon Do
For information about joining her class contact Nina on 07717 025165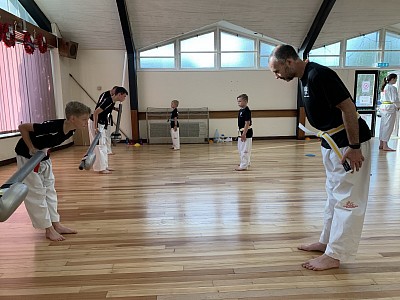 Tae Kwon-Do
Strictly Lines
Come to a class where you can learn Ballroom dance moves without a partner. Should you ever be asked for a dance, you'll never have to say 'I'm sorry, I can't dance!' 
The class is for all abilities, you have so much fun for an hour dancing to the most popular tunes you will leave lighter than air with a smile on your face and a spring in your step. So what are you waiting for? Join Lin on a Thursday at 7pm and bring your dancing shoes! 
£5 on the door. 

Zumba with Tracy Zumba Bateman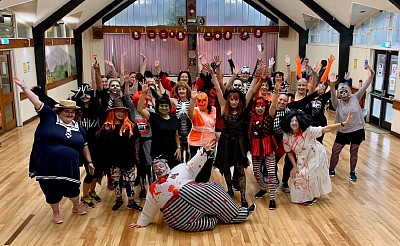 Zumba Party
Tracy has bought a fabulously energetic and fun Zumba class to the hall on a Saturday morning. Her classes are addictive, full of laughs with such fantastic and easy to follow dance moves. The music is toe tapping and she chooses such upbeat music you cannot help but want to be part of her party every Saturday morning. 
As you can see, Tracy brings fancy dress and music to match the occasion. This class wasn't backwards in joining in, most of them being new to her class too. 
You can find Tracy's classes and you can book and pay online at
bookwhen.com/TZBFitness
 Tracy's Facebook page is TZB Fitness Online.