Blog Spot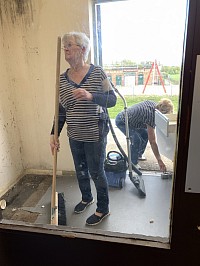 Broom Lady
Our Committee's ongoing commitment 
As an ongoing commitment to bringing the hall up to standard for the community the committee have been at the hall clearing cupboards, fixing chairs and getting rid of broken furniture and equipment.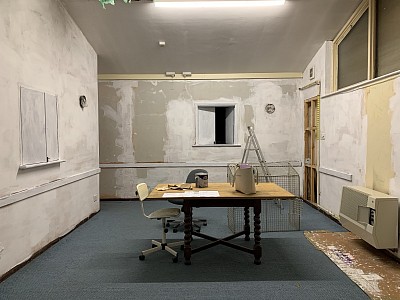 Room for Change
A new Room for hire
The committee have been working hard to bring a new room for hire online. This room will have new double glazed windows and a new door installed, it will eventually have new infrared heating coming from the ceiling. Plus new cafe sized tables and chairs. This room can be used for a cafe environment using The Little Honesty Coffee Shop next door, it can be used as a meditation room, class room, meeting room and a club room of any sort. There has been much interest in the intimate feel this room brings. So for fun we have called it 'The Room of Requirement' 
The Year's Story of a New Committee Member 
I joined Ashingdon and East Hawkwell Memorial Hall's committee from an invitation from the Hall's Manager. I officially became a member on 27th February 2020, which was my late father's birthday. What an eye opener the following months would bring. 

It was obvious the hall was in a terrible state of repair and needed a lot of love, the bank balance I found out later (in June) was in a terrible state and it was obvious to me that the committee I had joined were prepared to dedicate a lot of time and energy on it. To lavish the love it so deserved and bring it back for the community to use to support them in their livelihoods, education and Celebrations. 
So what happened.... well, as you all know we went into our first Coronavirus Lockdown, the committee came together on Zoom to decide how best to carry on. We overcame the lack of information provided to us and the New Committee pressed on. We contacted the hirers each to confirm their bookings were still safe and to introduce ourselves. We managed to achieve a lot even with Covid restrictions in place the list is long, we:-
•built a new online booking system 
•built a new fresh, informative website
•took control of the bank
•applied for grants
•decorated the bar
•had the maple dance floor repaired and resurfaced
•re-carpeted the entrance 
•cleared the chairs in the main hall to give more space
•installed remote controlled water heater switches
•installed a new broadband service
•installed a broadband access point 
•changed the men's urinals to a waterless system
•removed the coin operated electric supply for hirers
•produced Heath and Safety and fire procedures
•Produced a hirers information pack
•printed fire posters
•created and printed hall layout diagram
•added Covid sanitiser stations
•added women's sanitary bins
•a new light in the ladies loo
•fixed the light in the foyer
•did some gardening
•created Covid safe events for our children in the community for Halloween and Christmas funded by the committee 
•created a multimedia account on Facebook to connect with our community 
•obtained a new telephone number
•updated our sign
•contracted a cleaner to deep clean and keep the hall Covid safe
•had two Covid safe quiz nights complete with raffle
•decorated the hall for Christmas 
•continue to answer the phone and reply to emails
•have official email addresses
•supported our community during Remembrance Day and Remembrance Sunday
•keep our website up to date with Hall News, Celebrations and community news. 
•did a community leaflet drop
•did online training to support the community 
•spent hours on the phone sorting out the halls utility bills. 
•spent hours trying to find the water meter
•had a gas safety inspection
•cleared old rubbish and furniture 
•created Covid signage 
•created free connectivity broadband usage to our hirers 
•each became caretakers of the hall opening for the hirers on rota so to save the financing a new caretaker 
But all in all we supported each other. Our partners and spouses supported us. We started as strangers and have ended up as friends. Each of us with tremendous strengths each bringing something different to the team. We have all worked so very hard with the same goal in mind. To provide our community with a hub, a place to turn to, a place to meet, a place to enjoy. We have so many ideas, so much to offer, and there's so much we want to do. We would love a choir, a pantomime, a cafe, an Internet cafe, a mother and toddler play group, a teaching kitchen, a craft fair, a fish and chip quiz night, rebuild our porch, put back the outside door to the committee room, open up the windows at the side to the committee room, toilets and kitchen, double glaze said windows, have an open day to invite the community to meet us, our list is endless. But most of all we want our community to join us in bringing this all together. Bring our community back. Support each other in the good times and the bad, and we are forging through the bad. Aren't we?
So as I sit here, on New Year's Eve, I'm grateful for 2020 and what it has bought me and for what it has taught me.  It wasn't the ride I expected or even told I would have as a committee member for the hall, but the ride has been exciting and fulfilling. It's pulled me back into my love of technology and bought me back up to speed with life. Thanks to everyone who supported me on this journey. I'm so looking forward to what next year will bring. 
Here's to 2021! 🥂
Glen Dryhurst
Hi Helen, I did not realise how many things that we all did. This list is so impressive. You have prepared and posted a beautiful list of achievements and the website is excellent, with a capital X. Glen
Sally Chinea
Amazing - if I can help in any way happy to join the great was t effort for our village - done so many thing over the years! teacher / artist/ organiser of rochford art trail/ carnival etc etc !
lyndsey
well done for all the hard work! The community appreciates it!
David Catchpole
It's been great working with you all in 2020 and Carol and myself look forward to the challenges that 2021 will bring. As you said we have all brought something to the party but I must mention Helen especially, you have brought so many skills and your enthusiasm sees no bounds.
All we need now is the residents of Ashingdon and East Hawkwell to come forward with offers of support to help us bring the hall back to its former glory. It is a wonderful asset for the community and must be preserved for future generations.
1st Ashingdon Scout Group
Wonderful achievements within the first year - the support given by the Hall Committee to the Scout Group is greatly appreciated
John Chapman
Brilliant job by all concerned! Well done to the members of the committee
John Chapman
A brilliant job by all concerned!
Rebecca
Thank you everyone for all your hard work in a very difficult year.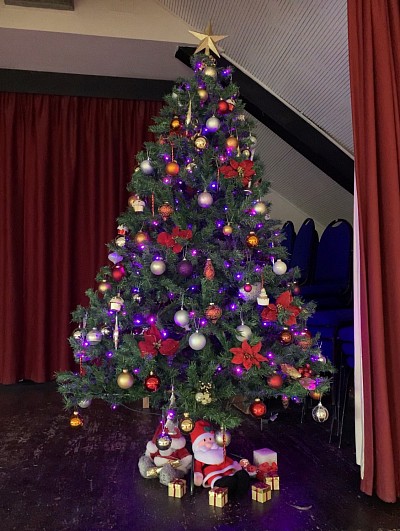 Christmas Tree oh Christmas Tree how lovely are your branches.
We are ready to Welcome Back our hirers. 
The committee have been busy whilst in lockdown. We scurried in the hall like little church mice to put up the Christmas Tree and some decorations to welcome back our hirers. There is another surprise waiting for them too. Eek... we can't wait for them to see! I will post our jewel in our crown when our hirers have seen for themselves.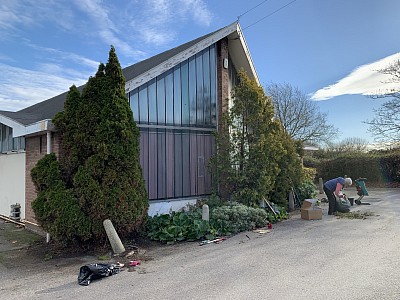 Tidy up
A little gardening 
The committee noticed that it was time the garden in front of the hall needed a little spruce up. So four of us with gardening gloves secateurs, forks, hedge trimmer and plastic bags set to work. There was bramble growing in amongst the trees and the worry was that it would choke them along with the ivy. So we spent two hours clearing as much as we could. It's not looking like Kew Gardens yet, but it won't be long. 😆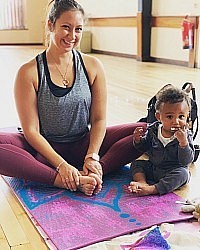 Yogabellies Wednesday 10:00am - 11:15am
Beautiful things happen in our hall.
We have welcomed back Yogabellies this week, a Mother, Toddler and Baby Yoga group.  As Webmaster I snuck in at the end to have a little nose at what was going on. What a beautiful atmosphere Sam had provided for the new mums. I kinda wanted to be in their sparkly circle too.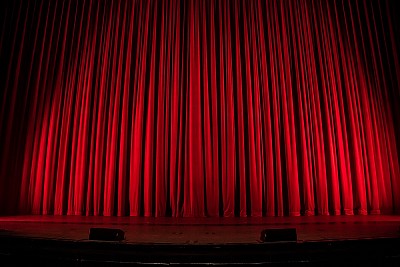 New hirers and Events coming to the hall. 
We are pleased to welcome back this week, Julie from Fun and Fit. Julie is bringing a fitness class to the 50+ and chair yoga. Check her out on our events page. 
Also on Monday we welcome back with open arms our talented Sequence Dancers. Ready to have a twirl on our beautifully restored floor. 
We are welcoming back Martin with his Kung Fu class on Monday for an after school Class and Sam with Yogabellies on Wednesday and Thursday. 
It's lovely to have the Arts group back with us again on a Tuesday morning ready for some socially distanced painting. 
A new group is joining us after school for another extra curricular class, we welcome Nicole with her Theatre Arts Classes, Tuesday, Wednesday and Thursday. We're looking forward to hopefully seeing our stage light up with a pantomime this year! 
A lot is happening at our hall, excuse me, Your hall. Don't miss out on the fun!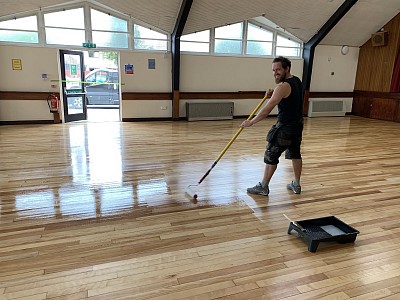 Last coat.
Our last update on the floor. 
The last coat being applied to our floor by Andy Gower. How lush does that look? Now to let it set for 5 days, only tippy toes and slippers allowed after. 😆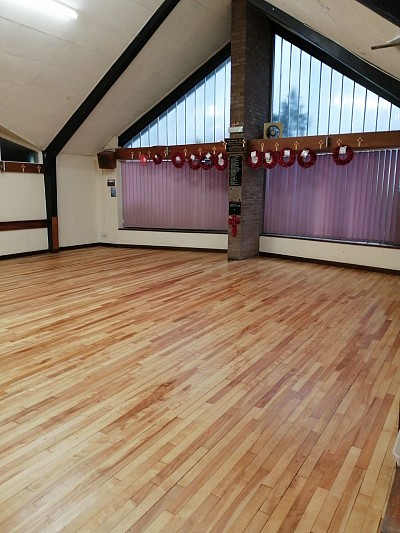 How beautiful does this look?
Oh my goodness. How in love are we with our new floor? We might have to ask our hirers to levitate over it in future. A couple more coats and we're good to go! A big thank you so far to Andy Gower.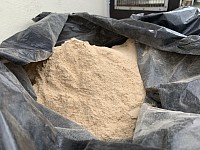 The work has started!
The floor is being prepped, tomorrow the repairs are going to start. I'm amazed at the amount of polish and wood dust that has been sanded off of it already. There are three big bags. Just like this!