Blog Spot
Wudang Tai Chi Chuan lesson.
Just a little insight to the class held at the hall today. The class showing some of their moves and having a laugh at the same time. Wudang Tai Chi Chuan is a fighting tai chi, much to the group's amazement, but the yin version that is practiced in this video is so good for your balance and wellbeing. Class members sharing that they have all noticed a positive difference in their balance since taking the class.
Tim
Even just watching it is so calming.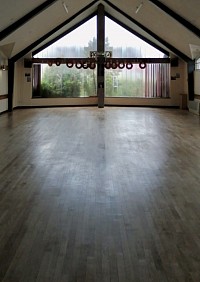 Hall Floor
Success for Grant for our beautiful dance floor. 
As our regular hirers know our floor has been in desperate need of repair and some love for some time.  Our new committee have managed to secure a grant from the council to help us with this.  The work will be commencing on 1st September for the remainder of the week, check back here to see the progress.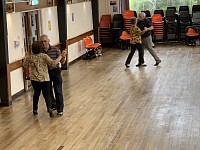 Socially Distant Sequence Dancing 
Today we had our sequence dancers back for a practice. Whirling around the hall in their dancing shoes. So lovely to see. It didn't matter that it was raining outside. It added to the atmosphere. 
Glen DRYHURST
Well done to the Team getting the Hall in good and safe shape. So good to see villagers enjoying themselves in dance and social activity. Glen
Tai Chi Group
The Hall hosts Wudang Tai Chi Chuan. 
Our second night open for the Tai Chi group. St George's field was busy with footballers and boot campers. In the Hall the floor was amazing and beautifully cared for. The group after having practiced in nature reserves and together on zoom said it was lovely to have a flat service again.  'It's such a beautiful space' Helen said, 'it was so lovely to be back in the hall and together again' 
'It's been 22 weeks since we were here before' said Tim. 'Warm and challenging but we loved it!' 
Alison
Lovely to see you have reopened. My Tai Chi class is still on zoom. Not sure when we will be together again.
Kim
Very much looking forward to joining the class again. So glad it's reopened.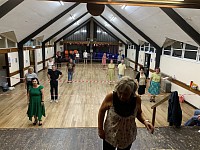 Mrs Dickie Bows
We're open and rocked it with style!
We opened our doors to regular hirers on 17th August in line with government guidelines.
A big thank you to
Rose
and
Mrs Dickie Bows
for being the first to try out the new Covid restrictions with her Retro Dance class.  It was well organised and as safe can be. All couples had their own taped off area to dance in and Rose directed from the stage. 'It was a different way of teaching' Rose said 'but I'll get used to it! It was lovely being in the hall and dancing again'
Hirers And Trustees of the hall have supported each other in ideas on how to get the much loved classes up and running again.  The community spirit has come alive in these different times.