Blog Spot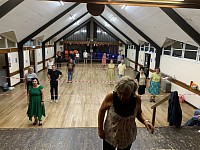 Mrs Dickie Bows
We're open and rocked it with style!
We opened our doors to regular hirers on 17th August in line with government guidelines.
A big thank you to
Rose
and
Mrs Dickie Bows
for being the first to try out the new Covid restrictions with her Retro Dance class.  It was well organised and as safe can be. All couples had their own taped off area to dance in and Rose directed from the stage. 'It was a different way of teaching' Rose said 'but I'll get used to it! It was lovely being in the hall and dancing again'
Hirers And Trustees of the hall have supported each other in ideas on how to get the much loved classes up and running again.  The community spirit has come alive in these different times.