Blog Spot
We are ready to Welcome Back our hirers.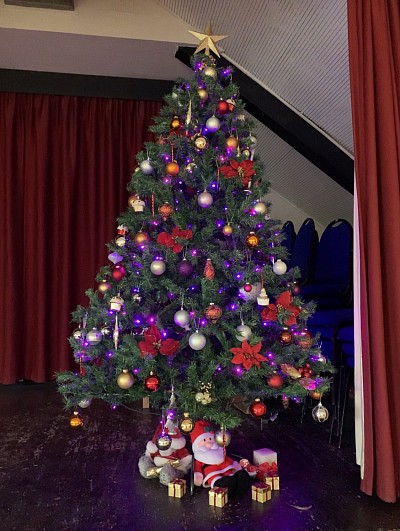 Christmas Tree oh Christmas Tree how lovely are your branches.
The committee have been busy whilst in lockdown. We scurried in the hall like little church mice to put up the Christmas Tree and some decorations to welcome back our hirers. There is another surprise waiting for them too. Eek... we can't wait for them to see! I will post our jewel in our crown when our hirers have seen for themselves. 
A little gardening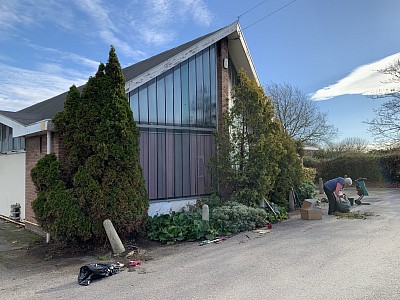 Tidy up
The committee noticed that it was time the garden in front of the hall needed a little spruce up. So four of us with gardening gloves secateurs, forks, hedge trimmer and plastic bags set to work. There was bramble growing in amongst the trees and the worry was that it would choke them along with the ivy. So we spent two hours clearing as much as we could. It's not looking like Kew Gardens yet, but it won't be long. 😆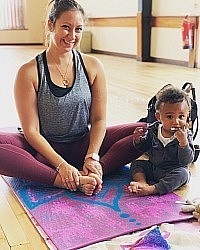 Yogabellies Wednesday 10:00am - 11:15am
Beautiful things happen in our hall.
We have welcomed back Yogabellies this week, a Mother, Toddler and Baby Yoga group.  As Webmaster I snuck in at the end to have a little nose at what was going on. What a beautiful atmosphere Sam had provided for the new mums. I kinda wanted to be in their sparkly circle too.   
New hirers and Events coming to the hall.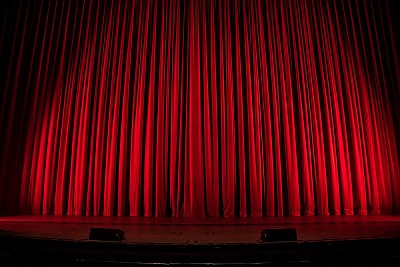 We are pleased to welcome back this week, Julie from Fun and Fit. Julie is bringing a fitness class to the 50+ and chair yoga. Check her out on our events page. 
Also on Monday we welcome back with open arms our talented Sequence Dancers. Ready to have a twirl on our beautifully restored floor. 
We are welcoming back Martin with his Kung Fu class on Monday for an after school Class and Sam with Yogabellies on Wednesday and Thursday. 
It's lovely to have the Arts group back with us again on a Tuesday morning ready for some socially distanced painting. 
A new group is joining us after school for another extra curricular class, we welcome Nicole with her Theatre Arts Classes, Tuesday, Wednesday and Thursday. We're looking forward to hopefully seeing our stage light up with a pantomime this year! 
A lot is happening at our hall, excuse me, Your hall. Don't miss out on the fun! 
Our last update on the floor. 
The last coat being applied to our floor by Andy Gower. How lush does that look? Now to let it set for 5 days, only tippy toes and slippers allowed after. 😆
Last coat.
How beautiful does this look?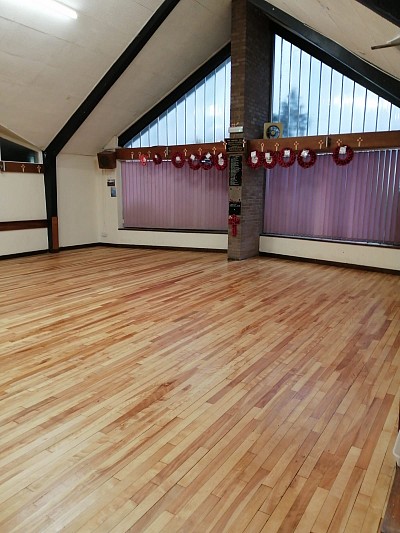 Oh my goodness. How in love are we with our new floor? We might have to ask our hirers to levitate over it in future. A couple more coats and we're good to go! A big thank you so far to Andy Gower.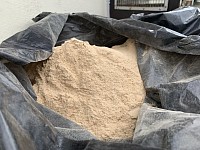 The work has started!
The floor is being prepped, tomorrow the repairs are going to start. I'm amazed at the amount of polish and wood dust that has been sanded off of it already. There are three big bags. Just like this! 
Wudang Tai Chi Chuan lesson.
Just a little insight to the class held at the hall today. The class showing some of their moves and having a laugh at the same time. Wudang Tai Chi Chuan is a fighting tai chi, much to the group's amazement, but the yin version that is practiced in this video is so good for your balance and wellbeing. Class members sharing that they have all noticed a positive difference in their balance since taking the class.
Tim
Even just watching it is so calming.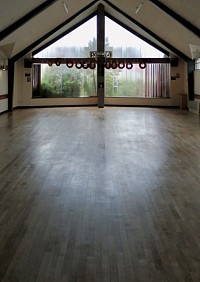 Hall Floor
Success for Grant for our beautiful dance floor. 
As our regular hirers know our floor has been in desperate need of repair and some love for some time.  Our new committee have managed to secure a grant from the council to help us with this.  The work will be commencing on 1st September for the remainder of the week, check back here to see the progress.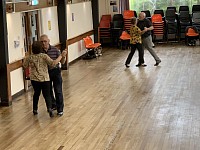 Socially Distant Sequence Dancing 
Today we had our sequence dancers back for a practice. Whirling around the hall in their dancing shoes. So lovely to see. It didn't matter that it was raining outside. It added to the atmosphere. 
Glen DRYHURST
Well done to the Team getting the Hall in good and safe shape. So good to see villagers enjoying themselves in dance and social activity. Glen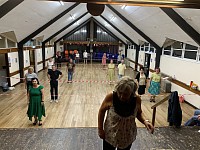 Mrs Dickie Bows
We're open and rocked it with style!
We opened our doors to regular hirers on 17th August in line with government guidelines.
A big thank you to
Rose
and
Mrs Dickie Bows
for being the first to try out the new Covid restrictions with her Retro Dance class.  It was well organised and as safe can be. All couples had their own taped off area to dance in and Rose directed from the stage. 'It was a different way of teaching' Rose said 'but I'll get used to it! It was lovely being in the hall and dancing again'
Hirers And Trustees of the hall have supported each other in ideas on how to get the much loved classes up and running again.  The community spirit has come alive in these different times.