Saturday Hire
Zumba with Tracy Zumba Bateman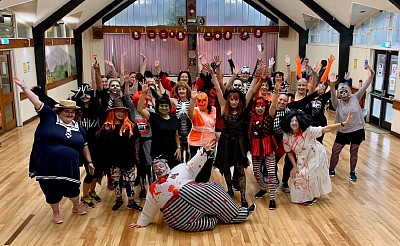 Zumba Party
Tracy has bought a fabulously energetic and fun Zumba class to the hall on a Saturday morning. Her classes are addictive, full of laughs with such fantastic and easy to follow dance moves. The music is toe tapping and she chooses such upbeat music you cannot help but want to be part of her party every Saturday morning. 
As you can see, Tracy brings fancy dress and music to match the occasion. This class wasn't backwards in joining in, most of them being new to her class too. 
You can find Tracy's classes and you can book and pay online at
bookwhen.com/TZBFitness
 Tracy's Facebook page is TZB Fitness Online.